"The story of the human race is the story of men and woman selling themselves short".

Abraham Lincoln
Love, we all seek it. We all need it. We all desire it. But to give yourself freely and Love someone, genuinely Love someone, you must first be Lovable. To be Lovable, you must Love yourself, first.
Loving yourself is an important factor to living well. It will influence who you spend your life with and with creating your memories, how you will choose your friends (like attracts like), how you will deal with the many problems life will throw at you, and your own well-being. How you see yourself is how you will treat, or mistreat, yourself.
But how do you Love yourself, first? Loving yourself first does not mean buying it, aka bribes. You cannot get it in a beauty salon or doctor's office. There is no magic pill or external source that can make you genuinely Love yourself for more than a minute or a moment. There is no external relationship that can fix a sense of a non-Loving nature. These can satisfy you for a moment, but only a moment.
Loving yourself first is not a state of feeling good. It is a state of appreciation for oneself that grows from actions that support our physical, psychological, and spiritual growth. It's dynamic; it grows through actions that mature us. When we act in ways that validate our Love for ourselves, we accept our weaknesses, and our strengths, accept our short-comings, show compassion for ourselves as human beings struggling to find personal meaning in this life, can live more in alignment in our life's purpose and values, and can begin living a full life through our own efforts.
I am reminded of a story of when Confucius met Lao Tzu.
Many think Lao Tzu to be the original author of the Tao Te Ching, which has gained worldwide influence since published, being the most published book in history, after the Holy Bible.
The influence of Confucius on Chinese culture over past centuries has also been considerable. His approach to life is opposite to life to that of Lao Tzu, as the following tale shows:
Lao Tzu and his teachings were always a concern of Confucius. It is said that once he went to see Lao Tzu. He was older than Lao Tzu, so he wanted Lao Tzu to behave with manners, as an old man expects. But Lao Tzu was sitting, and he would not even stand to greet him. He would not even say, "Sit down, sir," and he didn't pay much attention to him. Confucius became furious. What type of master is this? And he said, "Don't you follow any manners?"
Lao Tzu said, "If you feel like sitting, you sit; if you feel like standing, you stand. Who am I to say anything about it? It is your life. I do not interfere."
It shocked Confucius. Then he asked something about the superior man, the gentleman, and Lao Tzu laughed, and he said, "I have never come across any 'superior' or 'inferior'. Men are men as trees are trees and everything takes part in the same existence. Nobody is superior and nobody is inferior, and it is all nonsense and rubbish!" Confucius became very much afraid. And this man Lao Tzu had tremendous silence around him; he was a pool of silence.
When I read this tale, it rang true to me in so many ways. For many of my younger years I did not feel Lovable. I felt inferior. I did not feel "worthy" of Love by another, so I would follow unhealthy ways and make terrible choices in life.
When you realize nobody is superior and nobody is inferior, and it is all nonsense and rubbish, and make the active choice to believe it you will stop comparing your life to that of others and you will stop building false scenarios of what you feel your life should look like in order for you to Love yourself.
Loving yourself first is a wonderful adventure. It's like learning to do something well for the first time. Your confidence grows. You walk with a swagger. You realize that there is nothing in this world that you cannot accomplish. You see your value and worth. You feel you are worthy of the Love you desire. The Love that you were born to share.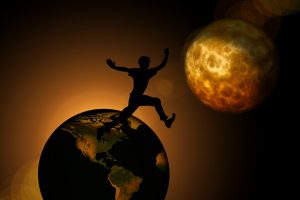 Here are 12 suggestions to discover how to Love yourself first, so you may Love someone well:
Give yourself a break
Stop with the negative self-talk in your mind and especially out loud. Every time you beat yourself up and criticize yourself, you affirm in your mind that you are not worthy. Stop it! I know of only one perfect and we are not it.
Change your thoughts and change the outcome
Stop telling yourself that you will fail or that you are a failure. What the mind thinks, the mouth says. What the mouth says, the heart believes. What the heart believes, the body reacts to. Start seeing yourself as worthy and Lovable.
Apologize to yourself for your past behaviors
You are human, so you will make mistakes. A poor decision does not make you a bad person. It only makes it a poor decision. If you hurt someone you deeply cared about, you wouldn't withhold an apology to them.
Be kind to yourself.
We all have an inner child we live with all our lives. When you berate a child they shut down, withdraw, and don't grow healthily. When you make a mistake, and you will, don't berate yourself. Learn from it, try not to repeat it, and do better. But be kind to yourself.

Be patient with yourself
It took me quite some time to change my inner thoughts of feeling unworthy of Love to realizing that I am the person who I was designed to be, not perfect, but perfect for me. Don't expect change to happen overnight, but don't let yourself take forever either. Set healthy expectations and bring yourself along at a steady pace.
Remind yourself you are worthy
Just as you used to beat yourself up when you made a mistake, remind yourself when you did something good.  Praise,  recognition, and to be "seen" is something we all need and desire. Tell yourself regularly that you are worthy, worthy of Love, worthy of kindness, worthy of a fulfilling life.
Allow others to support you
Tell your friends and Loved ones what you are doing, how you are creating a new you. Ask them for support. Find support groups, read books, subscribe to blogs that speak to this. Find like-minded people who will tell you the truth, not just what you want to hear, which will help you grow as a person and help you see the exceptional person you really are.
Care for yourself as you care for other Loved ones
Self-care is the principal cause of a healthy self-esteem and sense of self. You cannot care for others if you don't train yourself to care for yourself first.
Nurture your body-temple
Your body is your temple, stop treating it like a garage, its holy, its sacred, its blessed, and it's a reflection of you. What do you do with the old things you don't care for? You stick it in a box and stuff it in the garage and forget about it. Polish it, clean it, give it what it needs to flourish.
Make Positive self-talk a regular part of your day
When you wake up ask the man, women, or child you see in the mirror each day if they are doing the best they can, to be the best human they can. Hold them accountable. They will doubt. When they do, remind them you Love them, and they are worthy of your Love. Say it until they believe it. They will thank you for it.

Enjoy yourself
Learn to enjoy your own company. Being alone gives you time to spend, bond, and appreciate your new best friend. We develop Love with face time, intimate times, shared moments, not distance. Learn to be still and remind yourself you are worthy of your time, because you are worthy of being Loved.
Love yourself first
I once knew someone who could care so much for others but could not care for themselves. That person was me. Do not let it be you.
You are worthy of Love because you are Love.
You might also like this:  DON'T WAIT TO FIND OUT YOU ARE DYING BEFORE YOU START LIVING
And this one: WHAT I LEARNED FROM BEING STUCK AND FROZEN
If you have enjoyed this article, please visit me at www.JosephBinning.com for more helpful tips and articles.
You can also get more helpful information in my book You Matter, even if you don't think so which you can purchase on Amazon here Amazon You Matter, even if you don't think so
For my free report Happiness Is A Choice click here: Happiness Is A Choice Free Report
Remember: Happiness is a choice, so be happy.