Before You Begin A Journey of Revenge, Dig Two Graves
"He Who Seeks Revenge Digs Two Graves"

— Chinese Proverb
Most people are familiar with the expression Revenge is a meal best served cold, but Before You Begin A Journey of Revenge, Dig Two Graves.
Most of us, when wronged, hurt, or feel betrayed, want to avenge the wrong, to make it right in our eyes. But is revenge worth it? The desire for revenge creates pent up anger which:
Causes you to lose yourself and prevent you from focusing on where you are and where you need to go.
Causes you to live in that moment until released and prevents forward momentum.
Can make you physically and emotionally sick.
Clouds your judgement and can cause you to do something you wouldn't normally do, say, or act like.
Can make you bitter.
Won't make you feel better and could make you feel worse.
Merriam-Webster defines revenge as:
revenge verb
1: to avenge (oneself or another) usually by retaliating in kind or degree
2: to inflict injury in return for[1]
"Revenge… is like a rolling stone, which, when a man hath forced up a hill, will return upon him with greater violence, and break those bones whose sinews that gave it motion,"

— Jeremy Taylor, author[3]
If we are honest with ourselves and look at the outcomes and the fallout from revenge, we must look at the possibility that it could backfire.
I knew a person who disliked the fact that his girlfriend was "a big flirt". This centered on his insecurity, but he didn't see it that way.
One night, he and his girlfriend were at a party and she was being her social self. Annoyed with her, the man started flirting with a young woman to "get back at her" and in his mind wanted her to see how it felt.
The woman followed him into an empty room where she enticed him into having sex with her, which he did using the excuse he was drunk to justify his terrible choice. When they finished the woman walked up to the man's girlfriend and told her what had just happened.
The girlfriend had enticed another man from that woman in the past and she was exacting her form of payback on the girlfriend and had used the man to get it. The man and his girlfriend are no longer together.
So how do we just forgo the need to exact revenge on another? Know that your thoughts "attract" things, situations, and people into your life daily. They will either move you towards where you need to be, or away from it. The choice is yours.
When you let go the need for revenge in your life, you allow better things to take its place. Not allowing the pent-up anger to fester in the first place can satisfy you and liberate you.
I have a friend who once told me to that it is okay to forgive someone who did not ask for it, for my benefit, but to mark them in the back of your brain. When pressed for a definition of that he said "to forgive is our nature because we ourselves are not perfect, but to allow it to happen twice goes against our nature and should be avoided at all costs".

I wrote an article about forgiveness that might help which you can read here:
Forgiveness Not for the Other Person
Forgiving people will prevent the need for revenge. It releases you for the chains that hold and bind you, which is not how you were created to be.
Possibly you have been someone who exacted revenge on another for something. Did it help you with whatever triggered the need for revenge?
Did it make things any better for longer than a short while?
Did it make you a better person because of it?
If so, you can start over. That's the best thing about life, each day is a new day, and we can hit restart and start over. Never be afraid to start over because each time you do you won't be starting from scratch; you will start from experience. Use that experience and make today better than yesterday.
I wrote an article about starting over that might help, which you can read here:
YOU CANNOT CHANGE THE PAST, BUT YOU CAN CHANGE THE FUTURE
If you have enjoyed this article, please visit me at www.JosephBinning.com for more helpful tips and articles.
You can also get more helpful information in my book You Matter, even if you don't think so which you can purchase on Amazon here Amazon You Matter, even if you don't think so
For my free report Happiness Is A Choice click here: Happiness Is A Choice Free Report
Remember: Happiness is a choice, so be happy.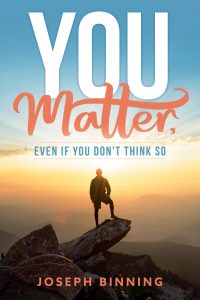 [1] Revenge verb/Merriam-Webster.com/accessed 11/05/2020/ https://www.merriam-webster.com/dictionary/revenge
[2] Sinew noun/Dictionary.com/accessed 11/05/2020/ https://www.dictionary.com/browse/sinew
[3] Jeremy Taylor Quotes/allauthor.com/accessed 11 https://allauthor.com/quotes/75994/ /